Home Inspector, Kevin Michaels is a NY State Licensed Mold Assessor in accordance with Article 32 of the recently instituted NYDOL Labor Law. License # 00374

Bill S3667D was signed by Governor Cuomo
This law requires all mold assessors, remediation companies & workers be licensed by NY State. This law took effect on January 1, 2016. This law also requires the licensing of mold Assessors. The mold "assessor" cannot work for the mold remediation company. The mold "assessor" must be independent of the mold remediation company. The mold assessor's license was created by NY State in an effort to have an independent analysis of the suspected mold. It is also the responsibility of the mold assessor to "clear" the project and to determine if the mold has been properly re-mediated.
Indoor Air Quality Testing Services
Air quality is very important when deciding on a new home or just occupying your current home or office. Hudson Valley Property Inspections is IAC2 Certified (International Association of Certified Indoor Air Consultants) .
During an Indoor Air Quality test we take indoor samples of air as well as outdoor samples, which are used as a control sample, and then send them to a Certified Lab for analysis. Within a couple of days, a lab report is sent to us and is then included in the
mold inspection report to you. This independent report can then be used to determine the extent (if any) of the mold problem. This information will be invaluable as you decide whether you have a simple clean up or if you have to go ahead with mold remediation. It is important to have us, as an independent consultant, do the air testing before any remediation is done as well as for clearance testing to be done after the remediation is completed.
The Mold Hard Facts
Even though you may not see or smell it, mold infestation is a serious problem in many homes, apartments and office buildings. A simple Indoor Air Quality Test is a good place to start. Here are some facts about mold and fungi that you may not have known.
1. Mold is not dirt. Mold and fungi are actually living organisms that are related to the family of mushrooms. Mold cannot be cleaned away. It can return repeatedly unless the source and cause of the mold is eliminated. In some cases, this requires the help of a professional.
2. Mold comes in a variety of colors. Toxic mold is often associated with black mold, but hazardous mold can come in a variety of colors, including g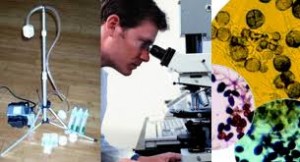 ray or brown. Exposure to fungi and mold has been associated with asthma, allergies and repertory problems. You may not know that it is in your home, but that doesn't mean that are not breathing in spores.
3. Easy to test (maybe). To determine if a surface patch is mold or dirt, spray some water on it and rub it with your finger. If the patch feels slimy, you are very likely dealing with mold.
4. Bleach won't do the job. Mold cannot be eliminated simply by pouring bleach on it or scrubbing an affected area with bleach. Most chemicals are ineffective against spores, and the mold will have a tendency to return.
5. Mold needs to eat and drink. Mold requires moisture and a food source to survive. Moisture can come from leaks, damp basement walls and even water vapor that may condense from improperly vented bathrooms. To remove mold properly, you must find the source of the moisture. Once you have dried out the area, you must scrape off the mold from the affected area and apply the appropriate chemicals.
6. Improper removal can make the problem worse. Removing old drywall, wallpaper or opening up previously enclosed areas can unleash a new, larger problem. Disturbances may reveal existing, hidden mold. It can also serve to disperse mold spores into the air, and possibly be sucked into your HVAC ventilation system. This can lead to health problems and spread the contamination.
7. Start early. If you suspect an infestation, then you should start remediation procedures. Tests are simple to administer and can determine where and at what level the infestation may exist.
8. A big problem requires the pros. If you find a moldy area larger than nine square feet, you should consider having a professional deal with the problem.
Save