I run into many intriguing issues while inspecting homes here in the Hudson Valley. One of the more puzzling such issues that I ran acro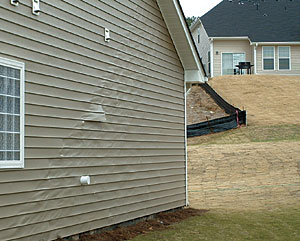 ss, was melting siding. I have run into this problem at least three times, and the obvious causes like, barbeques or heat lamps being too close to the siding just didn't make sense in these cases. In one particular inspection, I had to return to pick up the Radon collectors and I just had to have one more look. The sun was shining bright and I had my answer. The sun's reflection off of the neighbor's window was right on top of the melted siding. As modern windows get better at reflecting the sun's energy, homeowners with vinyl siding are paying the price. The melted siding shown here was caused by sunlight reflected from windows on the house next door. The diagonal warping pattern shows the sun's path as it travels across the sky.
The Vinyl Siding Institute (VSI) states that temperature ranges beginning at 160-165 degrees Fahrenheit can soften normal grades of vinyl siding. Darker colors absorb more heat, and will soften before lighter colors of siding. Heat generated from double paned low-e window reflected sunlight has been measured in excess of 200 degrees Fahrenheit, more than sufficient to soften and distort any normal grade or color of vinyl siding. There have been some reports of reflected sunlight damage to materials other than vinyl siding. Occasional wood discoloration and charring, and damage to paint and other plastics (e.g., decking, window lineals, trim), have all been reported.

Unfortunately, you and other homeowners have little recourse because siding warranties won't cover the damage. Even when manufacturers or builders are willing to step up to the plate, solutions remain elusive. While some builders may decide to switch to fiber-cement siding or brick veneer, the substitution is costly. The Vinyl Siding Institute suggests three possible solutions: planting a large bush or tree to block the reflection, installing an awning to shade the window, or installing a window screen.

If you have a puzzling issue at your home or business, feel free to call Kevin Michaels at Hudson Valley Property Inspections @ 845-399-3983. Let's us inspect, document the problem, and send you in the right direction to get you issue resolved.