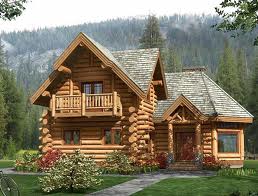 Log homes and cabins tend to have unique problems and often it takes someone who has specific expertise in log homes to be able to recognize these problems. When I have done home inspections on log buildings, sometimes I discover major problems that need to be addressed. Here are some the helpful tips on what to look for in  a log home.
EXTERIOR

Your inspection begins as you approach the house.  What is the condition of the log walls?  Are you satisfied with the finish/appearance of the walls?  If you feel the finish should be renewed, the cost could be in the $5,000 – $10,000 range.  Some log home owners never apply a finish, preferring to allow the walls to gray naturally.  However, unfinished log walls may mildew.  Mildew should be routinely removed.
Also from a distance, look at the roof shingles.  If the shingles are fiberglass or asphalt, are they flat or curled?  If they are curled, the problem is probably in the roof design, i.e., the builder or designer did not provide air space between the roof sheathing and roof insulation for ventilation.  Proper ventilation is essential to keeping the shingles cool and flat during hot, sunny days.  Curled shingles will require premature replacement.
Now, look closer at the log walls.  Make sure the bottom logs are solid and not rotted by rain splatter.  If the home has gutters, this problem will be minimized or non-existent.  Look closely at caulking and chinking.  Is this in need of repair or replacement?  Look for checking (drying cracks) in the logs.  Especially obvious checks should have been caulked.
All log home and log cabin owners eventually must cope with the Carpenter Bee.  How has the present owner been combating the Carpenter Bee or other WDI (Wood Destroying Insects).
INTERIOR
Operate every window to make sure the operation is smooth.  If the windows do not operate smoothly chances are the builder or designer did not allow sufficient space above the windows to accommodate settling of the log walls.  All log walls dry and settle after construction.  If properly designed and constructed, the windows should operate smoothly.
Are the floors on the second floor flat and level.  If not, are "jack screws" available to  correct this problem?  Again, a properly designed and constructed log home or log cabin can deal with this issue.
Are the log walls air tight?  Ask the home owner for copies of their utility bills.  Are the log walls water tight?  Look for water stains.
Here is a simple checklist:
Information about the home:
The Year the Home was Built
Manufacturer of the home
Log Species records
Any Disclosures – look for disclosures of log rot, insects, drainage…
Exterior Log Inspection:
Roof Line – look for sags or humps
Roof Condition and Age
Gutter Condition
Chinking/Caulking Condition
Gaps Between Logs
Proper Overhang (18" or more)
Landscaping (12" or more from logs)
Signs of Wood Destroying Insects (WDI)
Weathered or Darkened Logs
Faded or Peeling Finish
Green Algae, Fungi, Mold or Mildew
Ground Clearance (12" or more)
Deck and Deck Post Condition
Interior Log Inspection:
Operation of Doors and Windows
Light or Air Gaps Between Log Courses
Gaps Where Roof Sits on Log Wall
Gaps Around Rafters, Purlins and Ridge Beam
Chinking/Caulking Condition
Sign of WDI
Check Basement for Moisture, Mold and Mildew
Log homes can last for generations provided they have been faithfully maintained. The more you know about what it takes to properly maintain a log building, the more you can make an informed decision before you invest in the unique beauty of a log structure. Hudson Valley Property Inspections can help you make that informed decision when your ready to purchase a log home.